Pura Tirta Empul is located on the upper course of the Pakerisan River. It is a bathing place – pertitaan – mentioned as early as in 960 AD in s letter where King Indajavyasingha Warmadewa gave an order to rebuild the existing drains at Tirta Empul Temple. Tirta empul means holy spring.  Water spouted and is continuously spouting into 33 fountains and Hindus bath there with the purpose of religious ceremonial cleansing of mind and soul.
The Balinese wearing their festive costumes are bringing their offerings to the temple – I am already used to this sight. But I was not prepared to the sight of so many people having their ceremonial bath in the pools. This was the first pool I saw: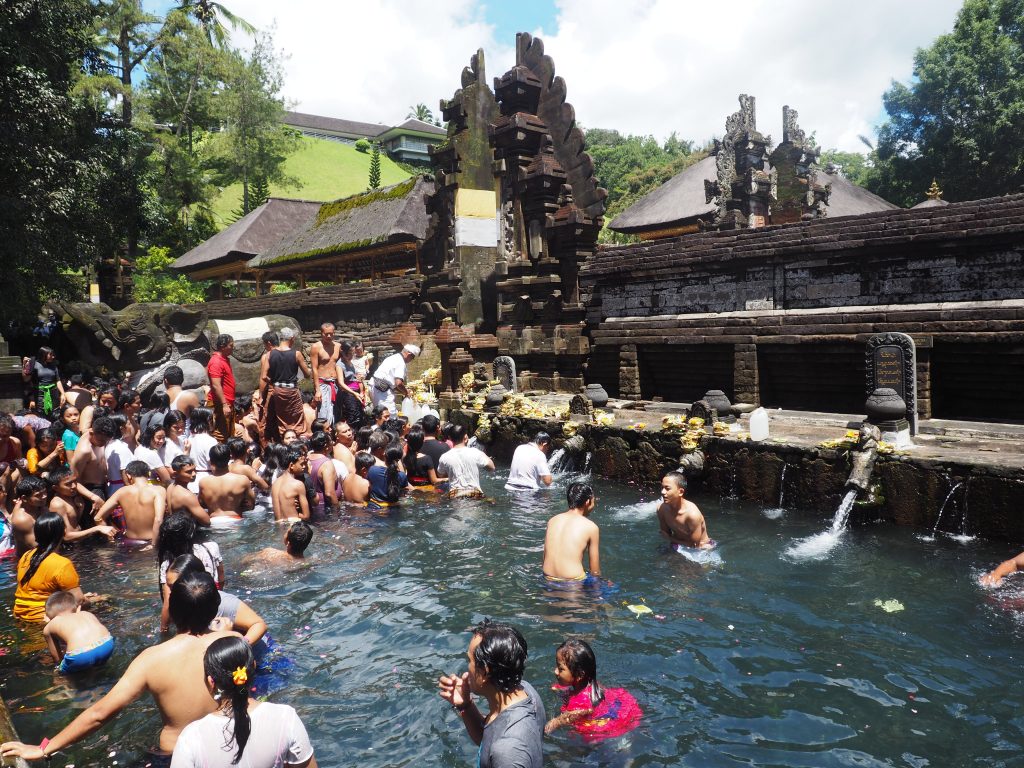 As I continued walking next to this pool, I came to the adjacent one.  I must say I gasped at the sight – because the other pool was positively overflowing with people rubbing shoulders with each other and you could hardly see some patch of water among them. Well, the explanation is very simple: Because today, on 20th January 2019, is full moon, the day when you are supposed to come here and cleanse your mind and soul, people come here and do just that. Look at the photo, all those people down there are in fact standing in water…
I can hardly believe my eyes. Just by chance my visiting this temple is taking place during this special day! I cannot believe my luck. I do not go into water but I have a festive feeling anyway. My mind and soul seems cleansed by mere fact of being here and seeing all these peaceful people. The atmosphere in all temple area is soothing. I definitely have Sunday feeling like in the "old good days" – in the past, when I was vacationing at my grandmother´s.
🙂