This is the most visited territory in Norway. The Geiranger fjord is considered to be the most beautiful of all Norwegian fjords and seeing its scenic beauty you have to agree.  It is 16 km long and around 500 m wide, flanked by rocky mountains and decorated by numerous waterfalls. Belonging to the most scenically outstanding fjord areas in the world it is a UNESCO World Heritage Site.
Even before entering the Geirangerfjord itself,  sailing through the Sunnylvsfjord, there is one mountain of specific interest. Enjoying the calmness of the early morning in the fjord I want to make sure not to miss the ill fated mountain waiting to bring disaster to this gorgeous fjord area. And yes, this is it – Åkerneset.
It is officially admitted that it poses a threat and it is a disaster waiting to happen. Because of this mountain there is tsunami devastating the fjord expected, due to a crack 700 m long and up to 30 m wide and still growing – Åkernes crevasse. It was calculated that as much as 150 million tons of rock will splash into the fjord and that this will result in tsunami as high as 80 m.
It is hard to believe what scientists and experts pointed out, that it can really happen and that a huge part of this mountain would slide into the fjord. The mountain looks innocent, green and lush with a few farm buildings. It is good to know that in this modern era even my own mobile phone is right now connected to the system and thus ready for receiving an alert about necessary evacuation, in case something like this would come true.
But now it is not so far yet, now it is just time to enjoy the beauty of our mother nature and also soon afterwards there is the Geirangerjord branching off.  It is  a pretty sight but the village of Hellesylt, situated not very far at the head of the Sunnylvsjorden,  is worth seeing, too.
Hellesylt village has appr. 260 inhabitants and is situated close to the Geirangerfjord, at the head of the Sunnylvsfjord. It has an interesting church and a waterfall on the Hellesyltflossen river, water kissing the rocks between two bridges.  The lower bridge – Hellesylt Bridge – was constructed in 1902 and the upper bridge – Høge Bridge was added in 1907.
It took several months only to construct the Sunnylven church in 1859. Danish born Norwegian architect Hans Ditler Franciscus Linstow (1787-1851) who designed the Royal Palace in Oslo, had worked out a set of drawings which became standards for Norwegian churches and appr. 70 churches were built in Norway based on them. This Hellesylt church ranks among them as the design of this church was made by Captain Ludolph Rolfsen using Linstow´s drawings.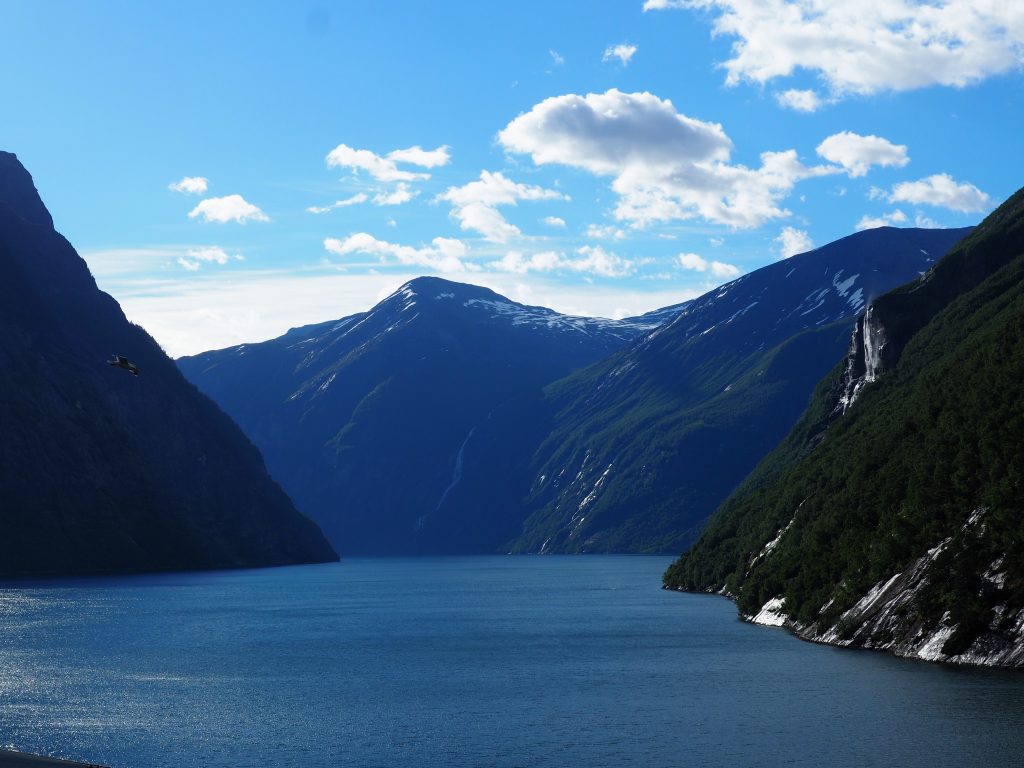 The Seven Sisters waterfall – Syv Søstre – is the most famous and the most spectacular waterfall not only in the Geiranger fjord but in Norway, too. Its name is derived from seven separate streams and each of them represents one sister. The tallest of them is 250 m high, making it the 39th tallest in Norway. Playful fantasy made up a legend about seven beautiful sisters dancing playfully down the rocks – they are represented by seven waterfalls next to each other. Across the fjord another beautiful spectacular waterfall can be seen. The name of it is Suitor. The Suitor liked the seven sisters and he proposed to them. They did not accept his proposal and undeterred he kept proposing to them over and over again. As they kept refusing, he took to drink. That is why the Suitor is shaped as a bottle.  I also find it interesting,  that its Norwegian name is Friaren and it sounds similar to my native tongue Slovak name of it Frajer and it even conveys the same meaning.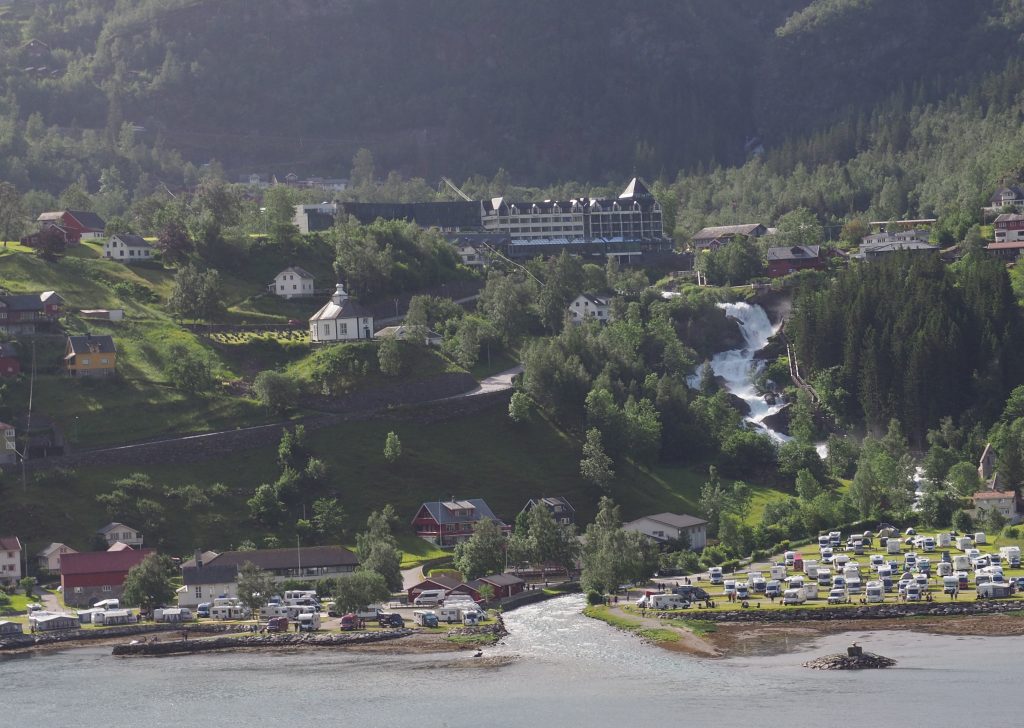 Geiranger village has appr. 250 inhabitants only, however,  as many as appr. 800,000 visitors visit this small place during the season lasting from May to September.  Most visitors arrive on as many as appr. 200 large cruise ships and this makes it one of the most visited tourist sites in Norway as well as the second cruise ship port in Norway right after Bergen.
Similarly to Hellesylt it also has a waterfall in the middle – Storflossen – on the Geirangelva river.  There is a special waterfall walk alongside it and who walks all 327 steps up to the Norwegian Fjord Centre gets pretty exercise. In the centre the exhibition concentrates on west Norvegian fjords – two of which are UNESCO World Heritage – except Geiranger fjord it is Nærøyfjord,  some 120 km away from here.
There is an interesting white wooden church in Geiranger, too. Its octagonal shape makes it unique and very romantic. It was built in 1842 of wood  and painted white with a grey roof.  Famous Union Hotel is one of several hotels this village can offer and camping sites are available, too.